Dopamine Jailbreak
Dopamine jailbreak is a brand new jailbreak solution based on Fugu 15 jailbreak. As most of you are aware, Fugu 15 jailbreak did not support getting tweaks because of that Dopamine jailbreak was released with a functional collection of tweaks. Formally Dopamine Jailbreak is referred as Fugu 15 Max.
In Dopamine jailbreak, Sileo serves as the default package manager and Ellekit as the tweak injection library.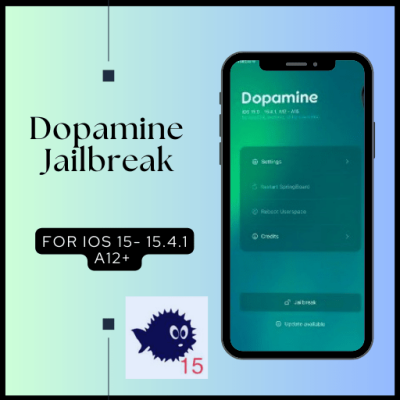 ---
Can I switch from Fugu15 Max to Dopamine?
Of course, You can.
Dopamine jailbreak is the developed mode of Fugu 15 Max with a new Ul. Developers have added a new Ul to Fugu 15 Max and have named the developed mode as Dopamine Jailbreak. Because of that if you are looking for a new updated on Fugu 15 Max you have to download Dopamine Jailbreak and also have to updated the device with latest iOS version.
---
How can I get more details about Dopamine jailbreak ?
You can simply go to the official website of Dopamine jailbreak. Click here to visit the official website.
---
Compatible versions
iOS 15.4.1, iOS 15.4, iOS 15.3.1, iOS 15.3, iOS 15.2.1, iOS 15.2, iOS 15.1.1, iOS 15.1, iOS 15.0.2, iOS 15.0.1, iOS 15
Compatible devices
A12 – iPhone XS & iPhone XS Max, iPhone XR.
A13 – iPhone 11, iPhone 11 Pro & 11 Pro Max, iPhone SE (2nd gen).
A14 – iPhone 12 & 12 Mini, iPhone 12 Pro & 12 Pro Max.
A15 – iPhone 13 & 13 Mini, iPhone 13 Pro & 13 Pro Max, iPhone SE (3rd gen)
---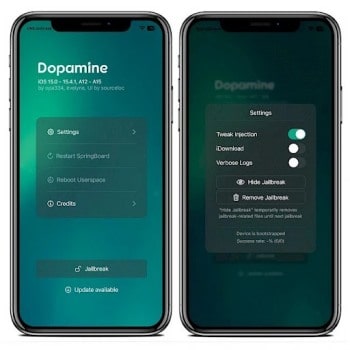 ---
How to get Dopamine Jailbreak
Install Trollstore according to your iOS version
Click below and download Dopermine IPA file
Save the downloaded Dopamine file in iCloud
Next share the downloaded IPA file with Trollstore
Trollstore will install Dopamine jailbreak IPA
Finally Dopamine Jailbreak will appear on your home screen
---
---
Dopamine jailbreak alternatives
Most suitable jailbreak alternatives for Dopamine jailbreak have listed below. You can download all these alternative solutions for free from here.
---
Zeon
---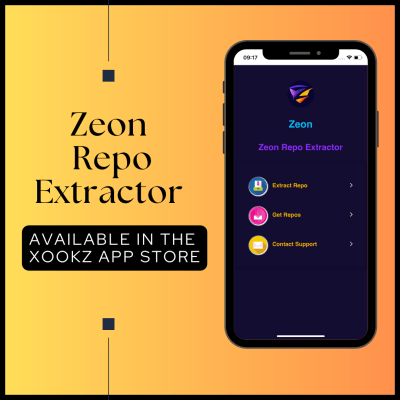 ---
Zeon is a newly released jailbreak repo extractor compatible with iOS 15 and higher versions and also Zeon repo extractor is compatible with all device models. For more information visit our iPhone jailbreak page.
---
Unc0ver virtual jailbreak
---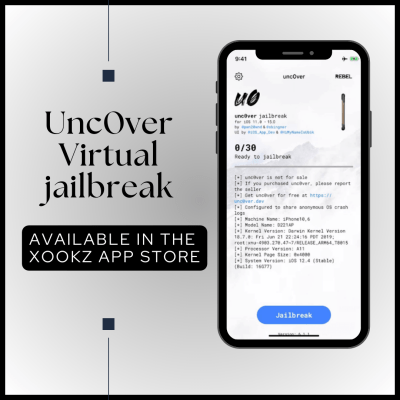 ---
This is a virtual jailbreak solution compatible with iOS 15 – iOS 15.7.5 and also supports getting Cydia lite after the jailbreak process is completed. Click here to get more information about the Unc0ver jailbreak.
If you are in the latest iOS versions (iOS 16 – iOS 17.0.2) you have the Unc0ver black edition. Unc0ver black edition installs Cydia dark after the jailbreaking process completed. Visit our Unc0ver Black Edition jailbreak page for more information. Cydia is an alternative app store that supports getting the best and amazing collections of themes, tweaks and much more.
---
Hexxa Plus
---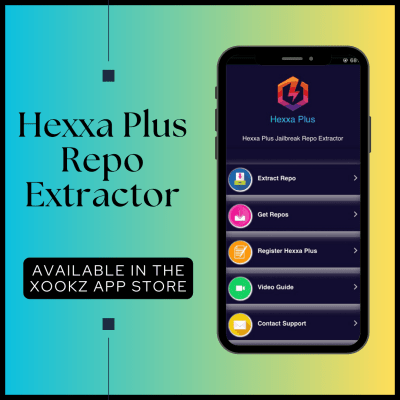 ---
Hexxa plus is a repo extractor that supports getting a brand new collection of games, wallpapers, themes, tweaks and many more that you are interested in. This jailbreak repo extractor follows a simple repo extracting procedure.
---
Dopamine Developers
---
---
---
---
---
---
---
---
---
---
---
---
---