DirtyC0w jailbreak
DirtyC0w is the best jailbreak method for you who want to enjoy more features. Would you like to install jailbreak tweaks? So this is the best way to install jailbreak tweaks.
The DirtyC0w jailbreak method does not have Cydia or Sileo package managers.
You can use an online method or sideloading an IPA file method to install DirtyC0w tweaks.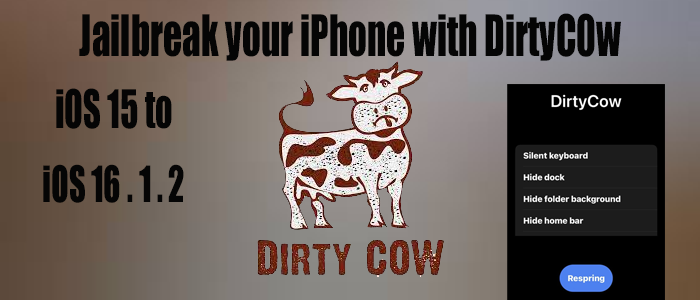 Compatible devices –
latest iPhone 15 series, iPhone 14 series, iPhone 13 series, iPhone 12 series, iPhone 11 series, iPhone 8, iPhone 8 Plus, and iPhone X, iPhone 7 and iPhone 7 Plus, iPhone 6S, iPhone 6S Plus, iPhone SE, iPhone 6, iPhone 6 Plus
Compatible versions –
iOS 16.1.2, iOS 16.1.1, iOS 16.1, iOS 16.0.3, iOS 16.0.2, iOS 16.0.1, iOS 16, iOS 15.7.4, iOS 15.7.3, iOS 15.7.2, iOS 15.7.1, iOS 15.7, iOS 15.6.1, iOS 15.6, iOS 15.5, iOS 15.4.1, iOS 15.4, iOS 15.3.1, iOS 15.3, iOS 15.2.1, iOS 15.2, iOS 15.1.1, iOS 15.1, iOS 15.0.2, iOS 15.0.1, iOS 15
Features of DirtyC0w
You can modify the icon animation on the Lock Screen using this.
You can alter the system fonts from this.
Can stop the sound of the shutter.
You can install File Manager from this.
Eliminating the home bar
Conceal the Dock
DirtyC0w online method
DirtyC0w is the best jailbreak online method to install below jailbreak tweaks. You can jailbreak your iPhone Without PC and without root access from this.
Firstly you should download Xookz app store to install tweaks of dirtyC0w online. Then you can see the tweaks under the dirtyC0w exploit category as in the image below. Click here to Download Xookz app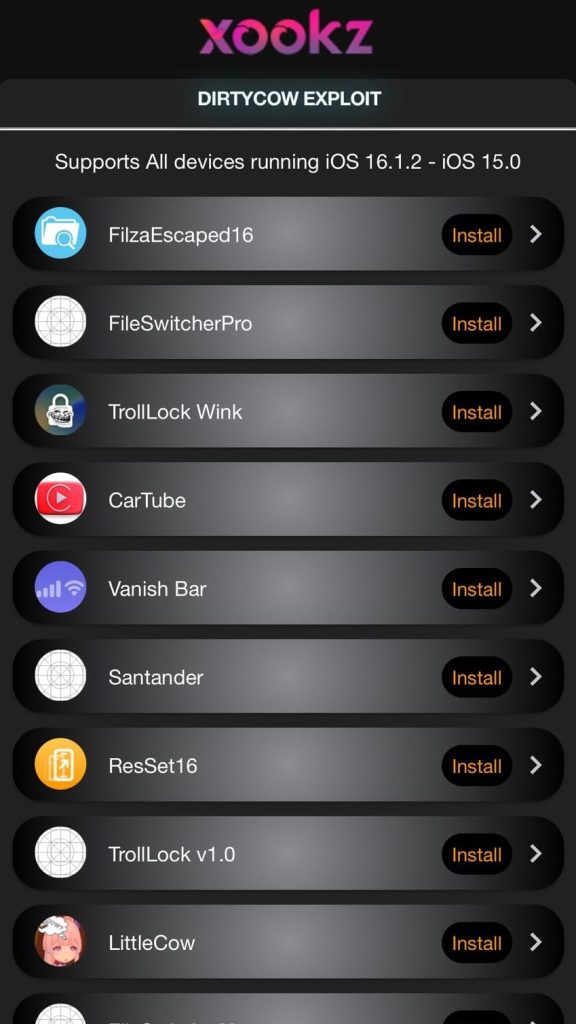 DirtyC0w exploit IPA's method
Many IPAs are now supported by the Dirty Cow exploit. Users must use the sideloadly & altstore to install these IPAs. Choose the tweak which you need from tweaks of dirtyC0w and click on that to install it.
Guide to install tweaks IPA's from DirtyC0w –
Click on each button of the tweak below to install.
Select the app which you need and tap on the IPA icon to install.
Enter your Apple ID to sign an IPA file.
Then click on the start button and wait to install the IPA file on your device.
Go to the settings from the home screen after entering your Apple ID password.
Select device management and VPN under the General.
Tap on the trust to give permission to run the application after enter your email address
Dirty Cow Tweak IPA's
Fileswitcher pro – You can modify and share any files including Plist on the system form using this tweak. No need to jailbreak it.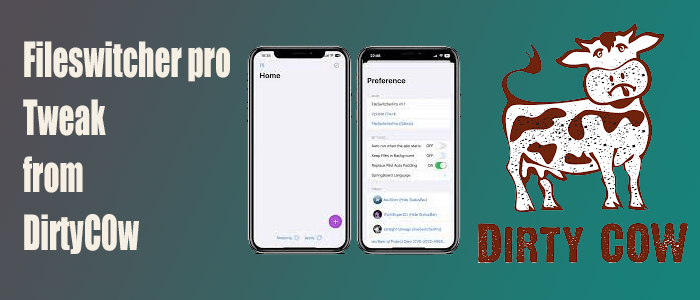 FilzaEscaped16 – FilzaEscaped16 lets you to edit or overwrite any file in RootFS on any iOS 16.1.2 or below device.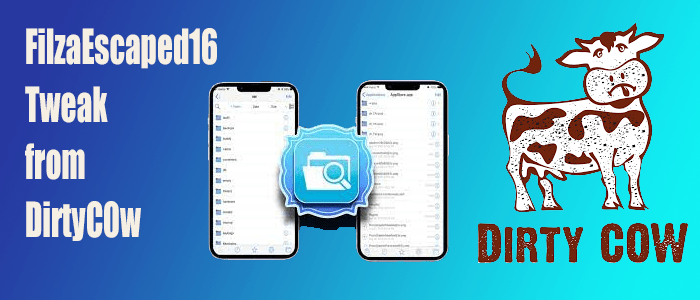 Cowabunga – It has options like Change system version, Hide dock, Hide home bar, Hide folder backgrounds, Disable folder background blur, and Disable app switcher blur.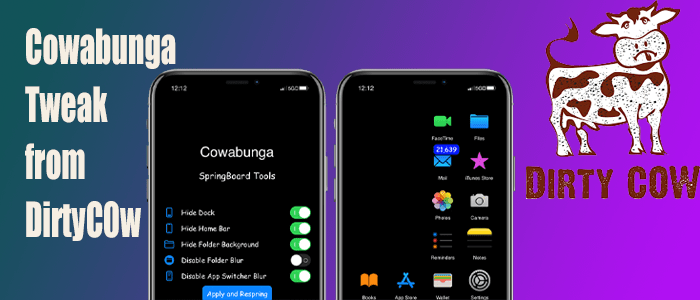 DirtyCowApp – For iOS versions 16.1.2 and earlier, Mineek from Palera1n has created an all-in-one app. It uses the MacDirtyCow attack to rewrite files on the filesystem.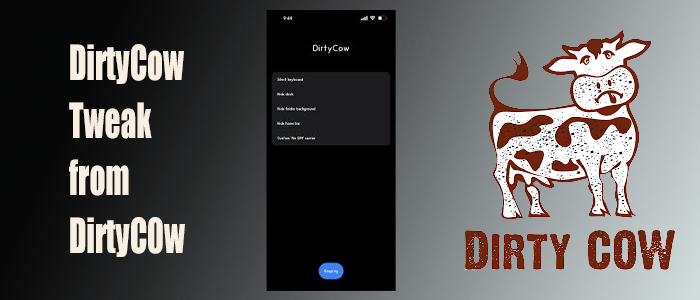 WDBFontOverwrite – With this option, you can change the font type without jailbreak.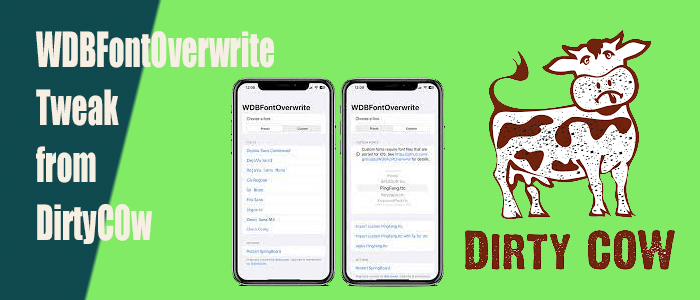 FileSwitcherX – You can change sounds, hidden system options, turn off the shortcut, change themes between light and dark modes from this.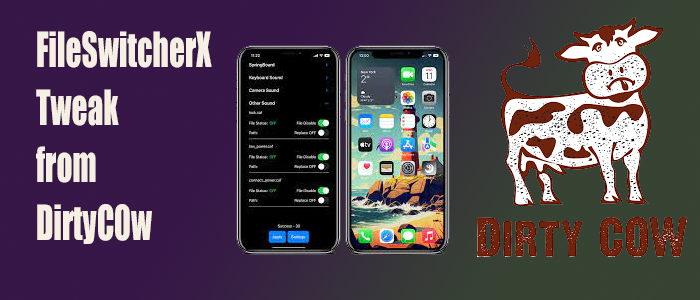 DynamicCow – Users of the iPhone 14 and 14 Pro Max now get the same Dynamic Island capabilities on other devices thanks to this tweak.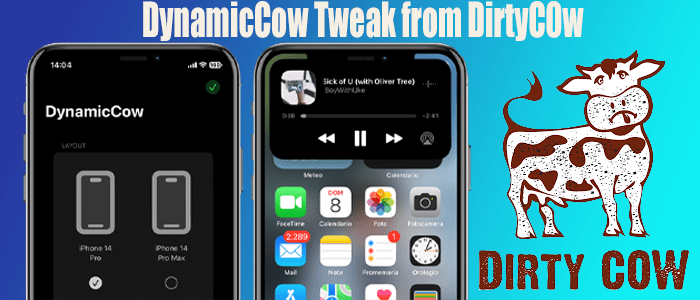 instaSpring – With the aid of the iOS software InstaSpring IPA, refreshing your iPhone is simple. There is only one step required to use the SwiftUI-written app, and that is to open it and utilizes the MacDirtyCow bug, an effective technique that expedites the respringing process.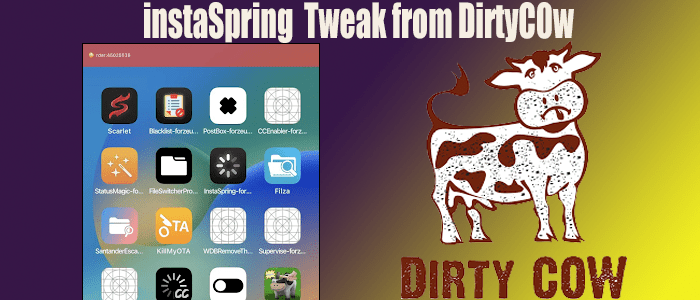 TrollLock Wink – It adds a distinctive and entertaining animation to the lock screen and is compatible with iOS 16.1.2, iOS 15 through 15.7.1, and iOS 14 through 14.8.1. This program is a supplement to the well-known Trolloc jailbreak hack and allows you to select winking animation as the default lock screen animation.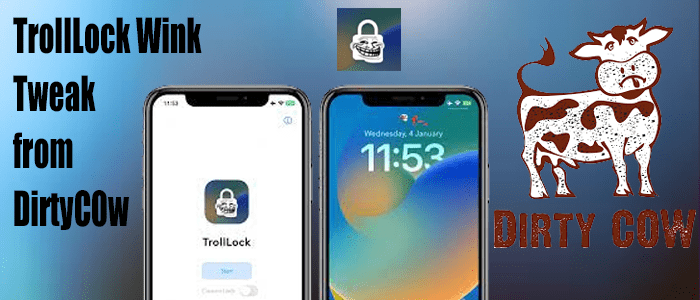 Prefschanger – Prefs Changer enables users to upgrade their smartphones to unregistered iOS versions such as iOS 16.1.2 without the need of a computer and supports devices running iOS 16.1.2, iOS 15.0 to iOS 15.7.1, and iOS 14.0 to iOS 14.8.1 utilizing the dirtyC0w vulnerability. permits upgrading. You may upgrade your iPhone or iPad with postponed OTA software using the "Supervise" PrefsChanger for iOS app.
Little cow – There are mini size and normal size iPhone X gestures for free on iPhone 6S to iPhone SE running iOS 15 – iOS 15.7.1 and 16 – iOS16.1.2 from this option.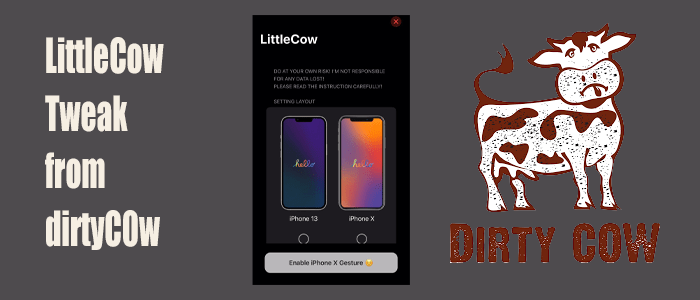 AirdropIconChanger – You can change the airdrop icon as you like from this tweak without jailbreak.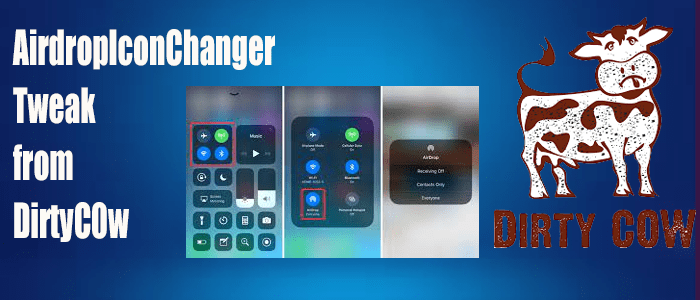 Santander – You can browse the iOS file system, create files and folders, modify file permissions, search for files, and more with this tweak without jailbreak, a new iOS file manager.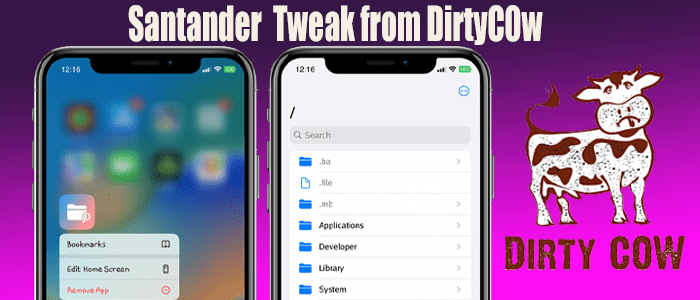 NoCameraSound – You can turn off the camera sound without jailbreak from using the NoCameraSound.
CCEnabler – With the aid of the IPA CCModules, more control center modules for iOS 15 through iOS 16.1.2 may be added to the iOS control center.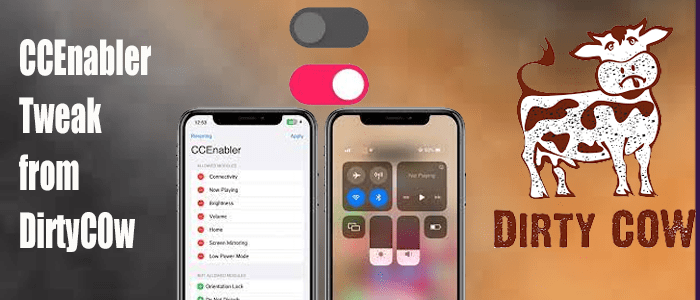 TrallLockv1.0 – With this simple add-on, the Face ID padlock symbol on the Lock Screen on iOS devices with notches is changed to an animated troll face that smiles as soon as the Face ID system recognizes your face.
Vanish Bar – VanishBar, MacDirtyCow program may be downloaded for free. On iPhones running iOS 15.0–16.1.2, VanishBar is available, and MacDirtyCow may be used to hide the Status Bar.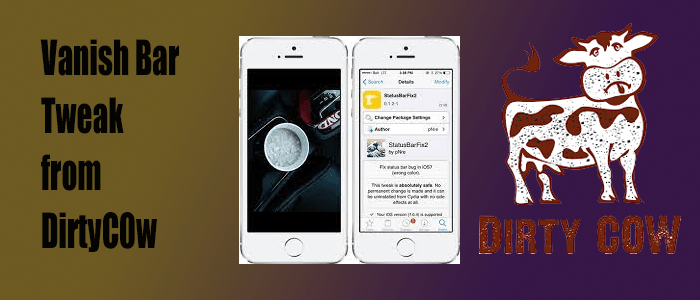 ResSet16 – Using ResSet16, iOS users may change the iPhone's display resolution. For those looking for a new kind of watching experience, ResSet16 offers a new degree of selection.
CarTube – Now you can watch the youtube videos form in your vehicle from using this tweak. You can browse, search and view youtube videos without jailbreak.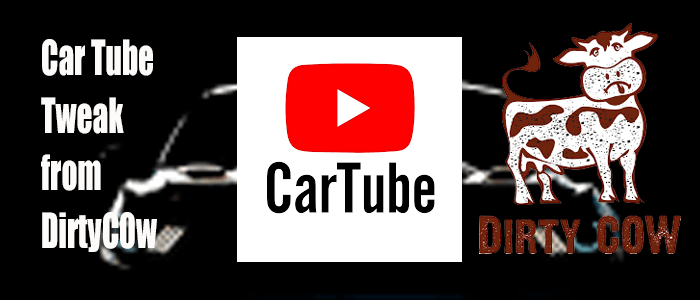 NoHomeBar – By using this tweak you can use your iPhone running iOS 15 to iOS 16.1.2 to get a great look without the Home Bar.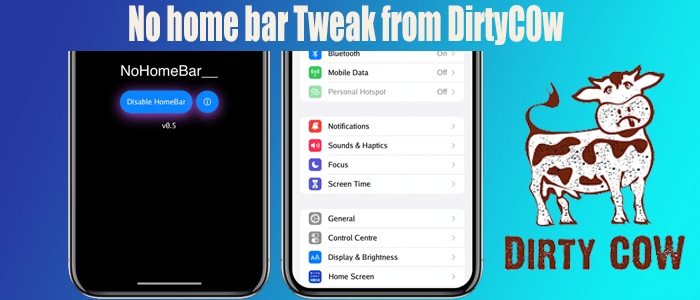 DockTransparent – With the exception of iOS 15.7.2, the DockTransparent IPA may completely transparently change the backdrop of the dock when used in conjunction with the dock.
DopeCow – DopeSettings Modification Modified by DopeC0w. DopeSettings by arx8x, the original app, is what Cell titles in the settings app's main display change to. The MacDirtyCow attack is used to overwrite files. The changes will soon be undone, though, because you can only write to RAM's cached data. cell names may be found in the settings app's main display.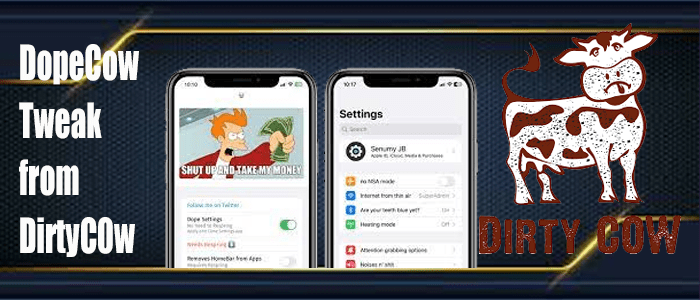 DirtyC0w Alternative Solutions
You can jailbreak your iPhone 6 plus to iPhone 14 (running iOS 15 to iOS 16.1.2) with DirtyC0w. But here there are any problems you can use the below alternatives for jailbreak. Choose the most suitable solution to it
Sileem for iPhone 7 to iPhone 14 [running iOS 16 to iOS 17(beta)]
Zeon for all devices [running iOS 14 to iOS 17(beta)]
Sileem – Sileem is a most popular repo extractor for iPhone. You can install jailbreak tweaks, games, themes and many more with Sileem. There are no problems after jailbreak iPhone with Sileem such as warranty issues, battery harm issues.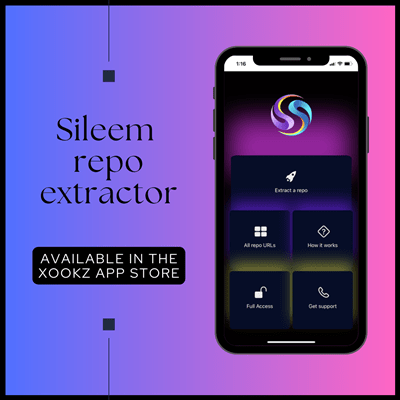 Zeon – Zeon is another option for DirtyC0w jailbreak. This is a repo extractor for your iPhone. No warranty issues and no battery harm issues. Zeon is compatible with all iPhone models.