Misaka Tweak Manager
Misaka is a tweak app manager for your iPhone SE to iPhone 14. You can install the dirtyC0w tweaks and apps using the Misaka tweak manager.
There are no package managers such as Cydia, Sileo with the Misaka tweak manager. Their IPAs may be used without a jailbreak and package managers.
The Especiallty is, Misaka tweaks the app manager compatible with newly released iOS 17 versions. Follow this page and get more information about that.
Based on the Mac dirtyC0w, Misaka executes dirtyC0w & KFD exploit applications within a single app created by others.
Misaka for iOS 17 to iOS 17.2
On your iPhone, you can install the largest selection of themes, tweaks, games, and other tweaks using Misaka tweak manager for iOS 17 – iOS 17.2 beta
Download above Misaka IPA to your iPhone jailbreak running iOS 17, iOS 17.1, iOS 17.1.1, iOS 17.2 RC from the below button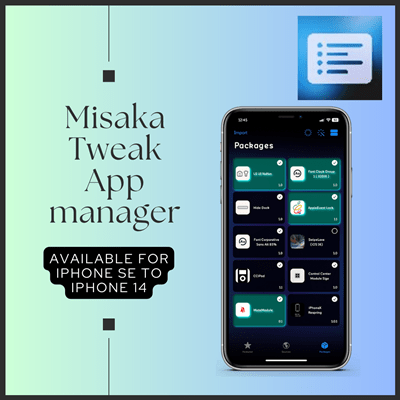 Misaka compatibility :
iOS version – iOS 17.2 RC, iOS 17.1.1, iOS 17.1, iOS 17, iOS 16.7.3 RC, iOS 16.1.2, iOS 16.1.1, iOS 16.1, iOS 16.0.3, iOS 16.0.2, iOS 16.0.1, iOS 16, iOS 15.7.1, iOS 15.7, iOS 15.6.1, iOS 15.6, iOS 15.5, iOS 15.4.1, iOS 15.4, iOS 15.3.1, iOS 15.3, iOS 15.2.1, iOS 15.2, iOS 15.1.1, iOS 15.1, iOS 15.0.2, iOS 15.0.1, iOS 15
iPhone models – iPhone 14, iPhone 14 Plus, iPhone 14 Pro, iPhone 14 Pro max, iPhone 13, iPhone 13 Pro, iPhone 13 Pro Max and iPhone 13 Mini, iPhone 12 Mini, iPhone 12, iPhone 12 Pro, iPhone 12 Pro Max, iPhone11, iPhone 11 pro, iPhone 11 pro max, iPhone XS, XS Max, XR, iPhone X, iPhone 8, iPhone 8 Plus, iPhone 7, iPhone 7 Plus, iPhone 6s, iPhone 6s Plus, iPhone 6, iPhone 6 Plus, iPhone SE
How to install Misaka Tweak Manager
From the sideloadly for MacOS & Windows.
Download and install sideloadly. (click on the sideloadly to go sideloadly page & download it)
You should have downloaded the APP that you wish to install on your PC after opening it. Connect your iPhone to the computer.
Drag downloaded IPA file and drop to sideloadly tool.
Then enter the Apple ID and password.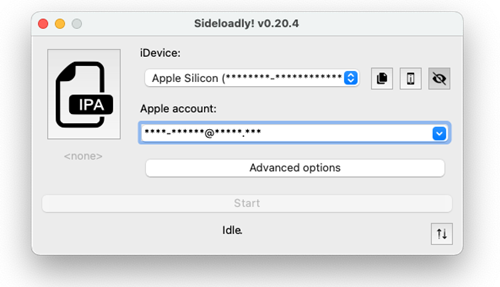 Wait to the installation process.
From the alstore for Mac PC.
Install Altstore on your Mac computer. (click on the alstore to go alstore page & download it)
To unzip the downloaded folder, double-click on it. Drag the extracted file to the Applications folder after that.
Click twice to launch AltStore.
The AltStore menu bar choices are located at the upper right of the menu bar. Now, click "Install Mail Plug-ins."
Go to the mail and go to Preferences >> Manage plug-ins and enable AltStore plug-ins. Then click on Apply.
Your iPhone should be connected to the Mac PC. If this is your first time connecting, you must have faith in the connection.
Go to the menu bar on your Mac and select AltStore. Choose Install AltStore next.
AltStore will show up on your iPhone when the installation is successful. Go to Settings General Device Management before you launch it. Choose your Apple ID, then select "Trust."
Alstore is now installed on your iPhone.
From the alstore Windows PC.
After uninstalling the Microsoft version of iTunes, download and install iTunes and iCloud straight from Apple's website.
Download & install the alstore to your Windows PC.
Your iPhone must be connected to the Windows computer. You must first trust the connection.
Click AltStore in the system tray to access the store. Next, choose Install.
AltStore may be installed on your iPhone when you input your Apple ID and password.
Go to Settings > Device Management on your iPhone. Click "Trust" after selecting your Apple ID.
Now AltStore has been installed on your iPhone.
Features of Misaka Tweak Manager
Because Misaka is a non-jailbreak software, installing it does not necessitate doing any jailbreak steps.
Only Dirtyc0w programs and adjustments are hosted by Misaka, and Misaka makes it simple to install Dirtyc0w apps and customizations.
You may add sources to the Misaka's repository section, which also has one of its own. However, the Misaka source part is incompatible with the Cydia /sileo repository.
Open the Misaka app and select the source tab to add the repos. then click the add source symbol in the top right corner of the source area of the app. The repos may now be added to the Misaka tweak manager.
Similar to the Sileo and Cydia app stores, the Misaka tweak manager includes a ton of functions. Without jailbreaking iPhone, all installed iPhone owners may install root applications.
Misaka only has a few default sources for now, and each source offers root customizations, applications, and themes. This is where Misaka usually comes from.
Updates
Misaka new versions V3.0.8 & V3.0.9 have been released. Misaka has improved with Warehouse loading efficiency, CPU utilization efficiency, Long tap the preview screenshot on the settings page to save it to your photo collection.
Now you can download Misaka V3.8.0 & V3.0.9 using the button under each image
Popular Misaka reposes
Huy Nguyen (11 tweaks)
Lunar (3 tweaks)
Fomri's Repo (11 tweaks)
iWishkem (7 tweaks)
tweakra1n (2 tweaks)
EPOSbox (61 tweaks)
tyler10290 (9 tweaks)
Dekotas (27 tweaks)
td quang (1 tweak)
MR X's Repo (3 tweaks)
Aurora (14 tweaks)
PhucDo's Repo (23 tweaks)
Betterave (7 tweaks)
misaka.app (12 tweaks)
Applicott (54 tweaks)
Lemin (3 tweaks)
ichitaso (1 tweak)
Kumiki (18 tweaks)
Sugiuta (2 tweaks)
Puck (11 tweaks)
Coolwacat (18 tweaks)
YangJiii Repo (24 tweaks)
Popular Misaka tweaks
Disable Homebar
Hide Homebar
Dock Color
Change Dock Color
ControlCenter Color
Change ControlCenter Color
LockScreen Icons
Coolwcat & US Ü3/ 1.0
Change LS UI
DialSound Piano
Coolwcat 1.0
Change dial sound to the piano
Enable Internal
システムをInternalモードに設定
RespringCC Shortcut
EÜ3/ 1.0
Install RespringCC before using
SpringAlert
US/ 1.2
beta alert and low battery alerts
CC WallPaper
Add the Shazam module before using
Font Apple Symbols
YangJiii 1.0
Fonts Apple Symbols. change character support MDC
LS UI YangJiti
Change the camera and flash icon
Font Clock Group 1 ( IOS16 )
(A) YangJii 1.0
Change clock font on ios 16
Radar
YangJii 1.0
Show internal settings
Font Clock Group 1 (IOS 15 )
YangJiii 1.0
Change clock font on ios 15
Usagi Passcode
Yang Jiii 1.0
Change your passcode
LS UI NaYan
Change camera and flash icon
Hide Dock
© Hide the Dock
Open Supervise